Dar Sofar guest house at the Draa palm grove in Agdz
Situated on the edge of the Drâa Palmeraie in the village of Agdz and facing the Djebel Khissane Mountain, our guest house welcomes you with 4 rooms all built respecting the local ancestral traditions, and all rooms open to the patio that leads to the swimming pool.
More than a hotel, Dar Sofar is a real guest's house where you will feel at home but also well looked after. Your host is a hospitality professional with long experience of service and will be more than happy to share with you his passion for the Drâa Valley and its region.
Our will is to adapt to your wishes and to offer you a relaxing stay that allows you to enjoy the region at your own pace. Our objective is to make you feel as if you were visiting old friends who welcome you with simplicity and kindness. We would be glad to share our experiences of south Morocco with you, but we also understand and respect your wish of silence, peace and intimacy.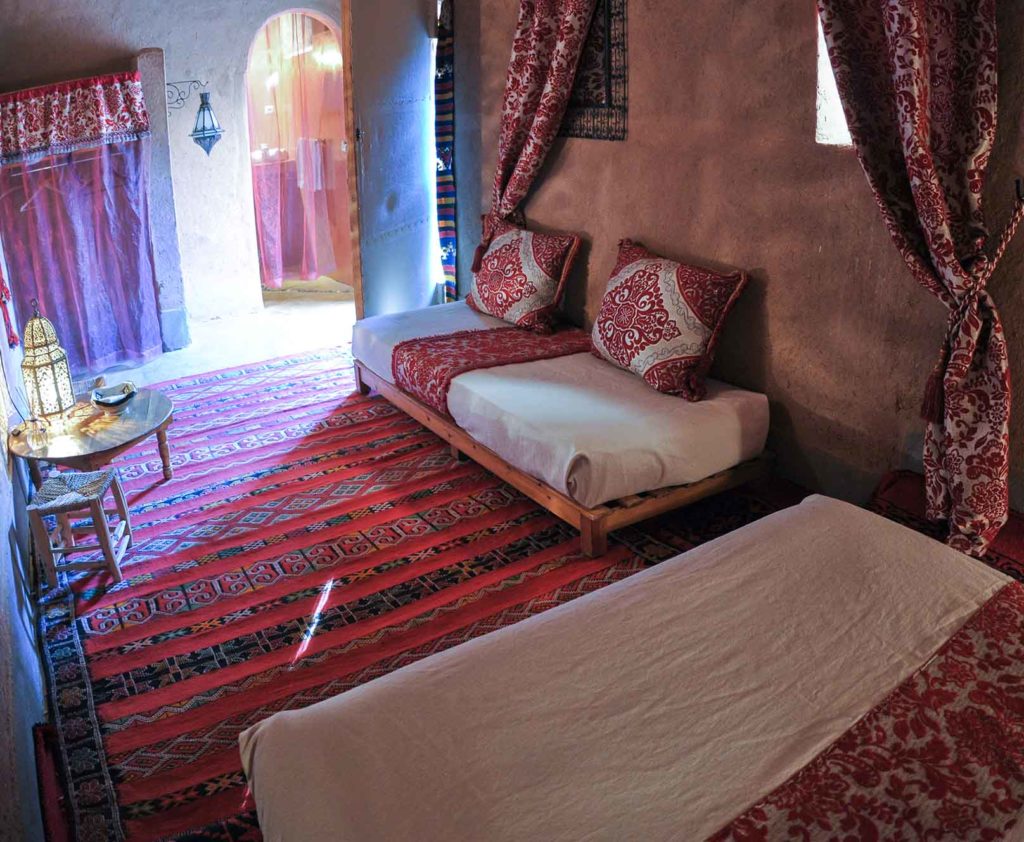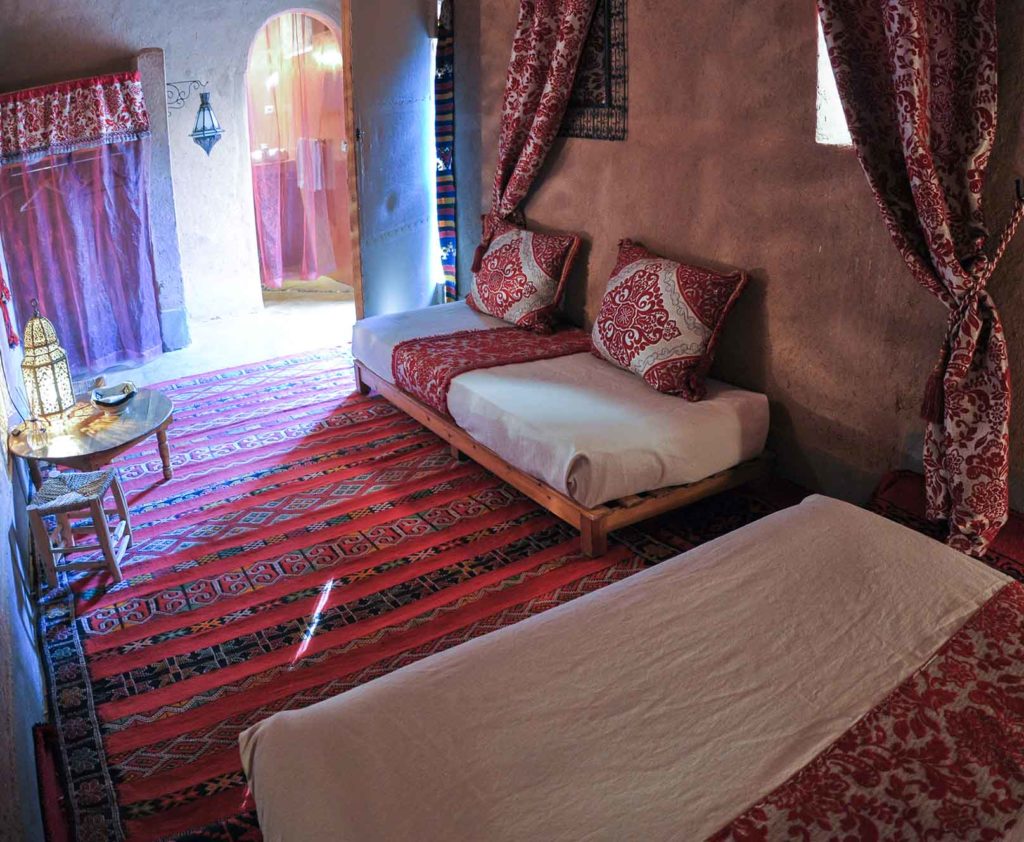 2 Adults + children - 12 years
Free For Children Under 3 Years, Cot Available Tourism Promotion Tax: 8dhs Per Night / Adult Tax: 15dhs Per Night / Adult
Check In Time : 3 Pm To 8 Pm
Check Out Time : 8 Am To 12 Am
For Every Schedule At Dar Sofar Our Philosophie Is To Adapt. So If You Want To Take Your Breakfast Late To Enjoy A Good Sleep In The Morning, Or If You Require A Late Arrival Or Check Out: No Worries. Just Ask, And As Long As It Is Possible We Will Do Our Utmost To Please You.
Here is an overview of the various activities available at low cost and in a short time. For those wishing to go further and see more, Dar Sofar will be happy to help you prepare your excursions in partnership with reliable local operators: either a night in the desert at Erg Chegaga, a one day hiking for the ascent of Jebel Kissane, and dozens of other possibilities …. Do not hesitate to contact us with any request!
Beautiful property with very clean and pleasant swimming pool (kids loved it). Lovely staff and host. Impeccably clean throughout.
his quiet little place is just wonderful. The courtyard and gardens are so lovely that I nearly couldn't decide where to relax first. If at or stay it had been a little warmer, I would have gladly jumped into the pool which it made out of typical tiles and looks like straight out of a design magazine. The room was very clean with a good bathroom where I specially liked the shower.
We love Dar Sofar ... really lovely people ! and the dar is just so beautiful...location was also very nice in a little palm tree oasis in Agdz a perfect location to relax on route to the desert regions , food was delicious Pierre the owner was most welcoming and we had really clear and helpful communication with him from the point of booking to arrival.
Hemos pasado una semana en Marruecos y este ha sido MI HOTEL FAVORITO por su decoración, por su trato, por su ubicación, etc. Coincidió que pasamos la noche de fin de año y fue muy especial. Después de un largo viaje en coche, nada más llegar nos dimos cuenta que habíamos acertado por completo.
A little oasis within a oasis. The town is lively and has the character of a traditional Moroccan town, with all its pros and cons. When you get to the hotel you have the feeling you are entering a different space: quite, relaxing, tidy, and still very much Moroccan as well. One of the nicest finds of my trip.